BOO!! I'm back again. I'm sorry for not updating that often. It's not that i've no time to update, but i'm just lazy. Heh. Let me update systematically. Chey, macam paham only. Hehe :) Wait! Before i start, i need my organiser. I have one okay? I know, this is so not me. HAHAHA :D So, first...... About my 21st BIRTHDAY, as what i promised in the previous entry.
Click on the links alright? I don't wish to upload all the pictures & videos here. Hehe.

Performance for NP Open House - 08 January 2010, Friday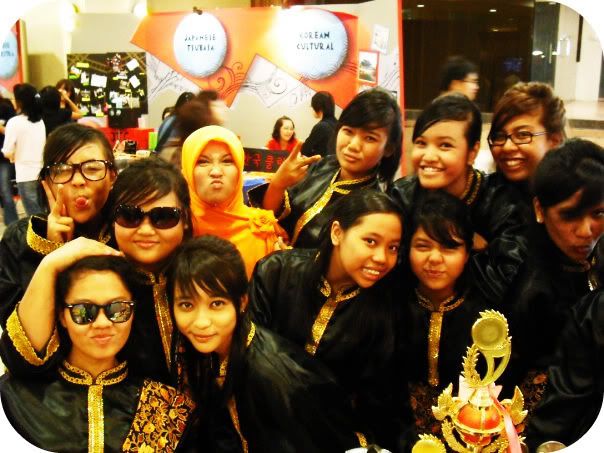 After the performance, as usual every Friday, I'll have tuition lessons with Uddyn (my tutee).

So for these dates, my pictures are still in my hp since i lost my USB :(

09 January 2010, Saturday - Went Jurong Swimming Complex with my siblings and their husbands & kids.

10 January 2010, Sunday - Birthday treats for my & Little Brother from our sisters <3

11 January 2010, Monday - Interview at IMH Human Resource (Alhamdulillah, i got the job!! YAY!!)

14 January 2010, Thursday - Starbucks with Shikin and Izarr @ NorthPoint.

15 January 2010, Friday - Hady Mirza's showcase @ NP. Tuition with Uddyn in the evening.

16 January 2010, Satruday - Went to Chinese Garden & visit the Live Turtle and Tortoise Museum.

17 January 2010, Sunday - Karaoke with the siblings.


Went Johor Bahru with Cik Murni, Shikin and Izarr - 18 January 2010, Monday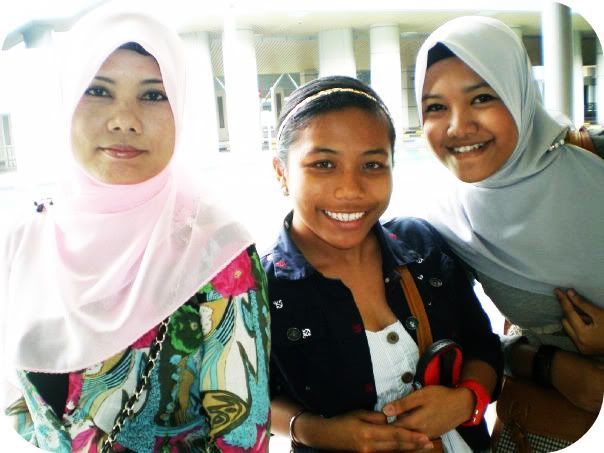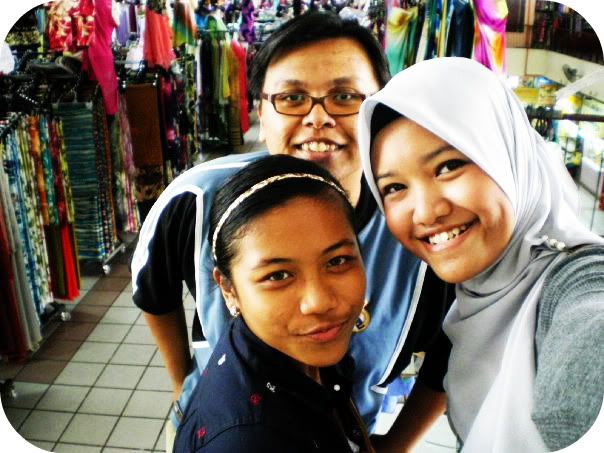 Meeting & Lepak session with Shikin, Izarr and Hyrul - 19 January 2010, Tuesday
21 January 2010, Thursday - Thosai & Starbucks sessions with Cik Murni, Shikin and Izarr.

22 January 2010, Friday - Bowling @ CDANS with the siblings and cousins.
I'm missing my Adiratna girls, so i shall meet up with them tomorrow during training :)
Current Mood:

calm
*clearing the dust* HELLO PEOPLE!! Oh my, it has been awhile since i last updated my blog. Heh. I feel like updating it now, but i'm lazy to have a proper update. Nyehehe. How like that?? Just look at the pictures alright?? :)


Performance at Ms Fiza's wedding on 2 January 2010, Saturday
The girls who performed, including Yanti & Iqa :)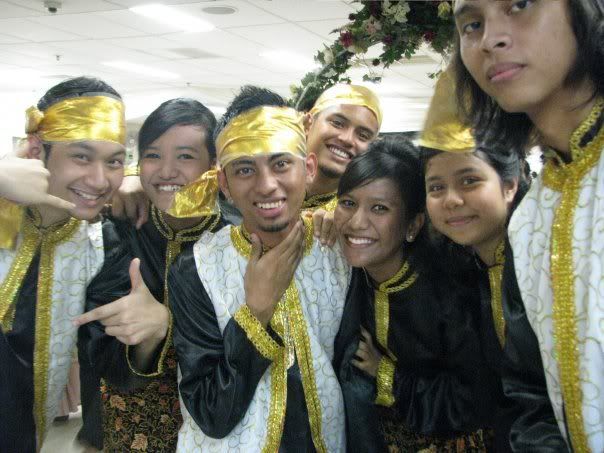 Paduka + Adiratna = Paduratna :)
The 2 boys who sat beside me & spotted my mistakes. LOL.
Iqa & Dayah <3

Wan, my partner in finding steps for the BOYS & GIRLS.
Nice working with you hor :)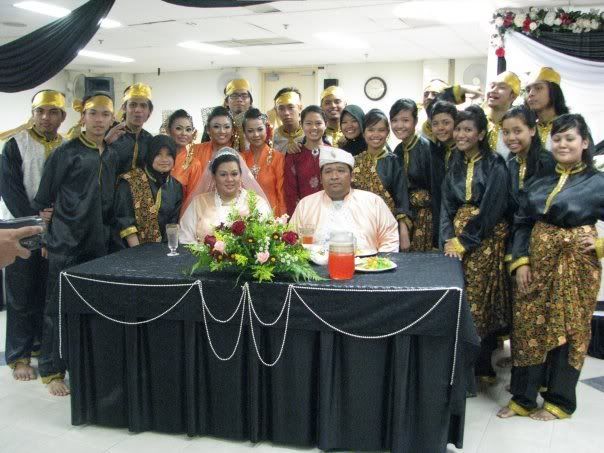 With the newly-married couple :)

Makan session with Hyrulites @ Wanna'B on 3 January 2010, Sunday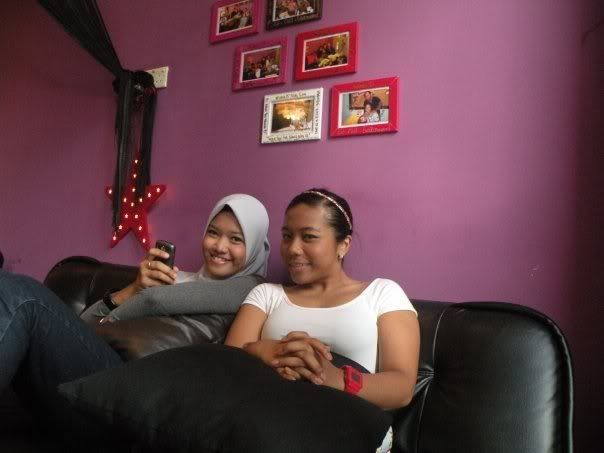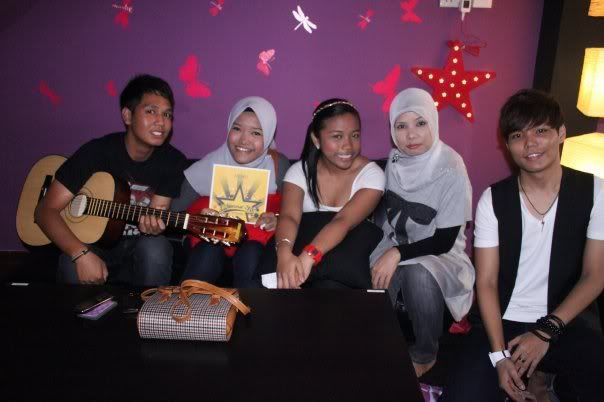 WE CAN JUST GO CRAZY OVER THE 10 SHOTS!! :)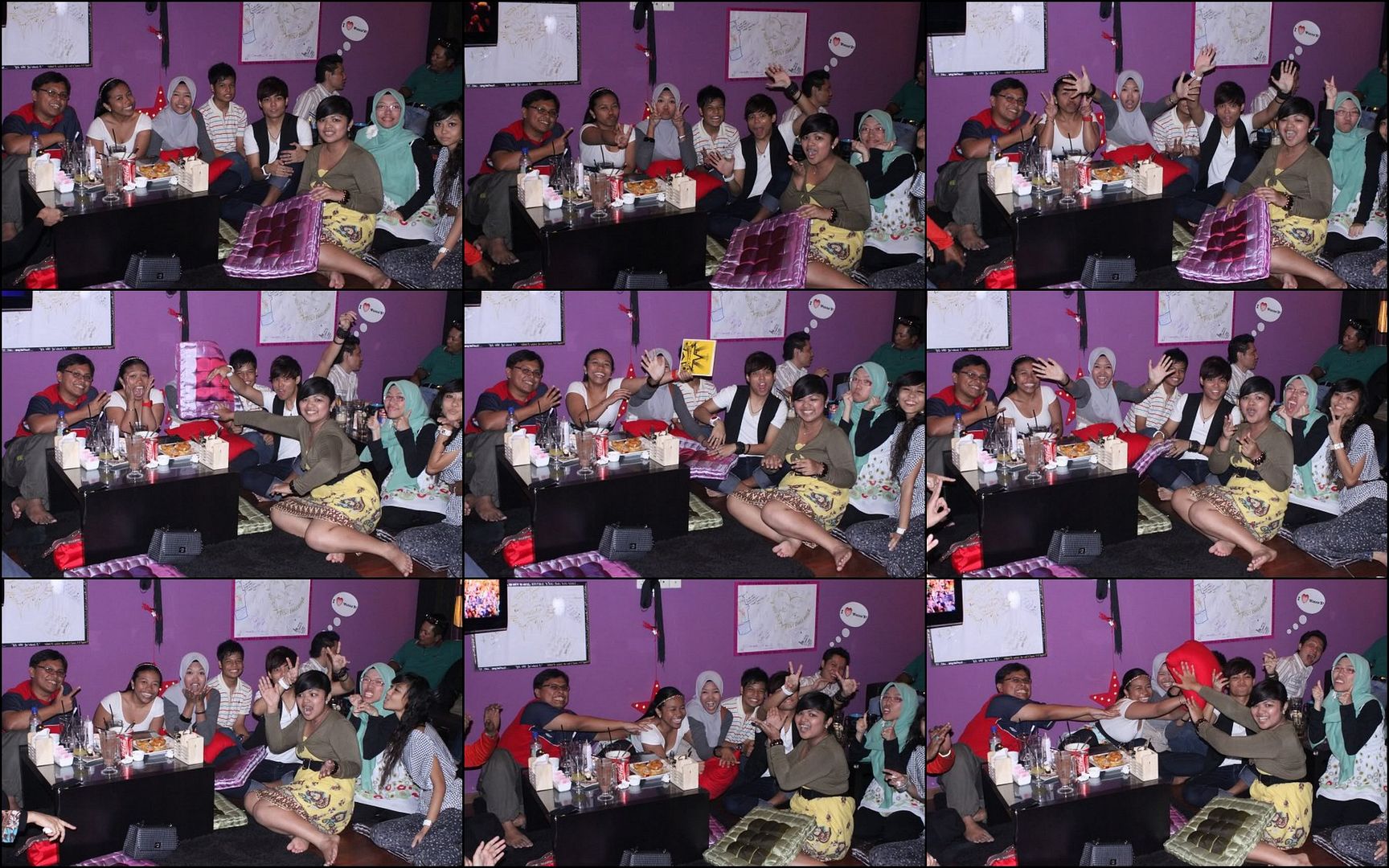 *drools*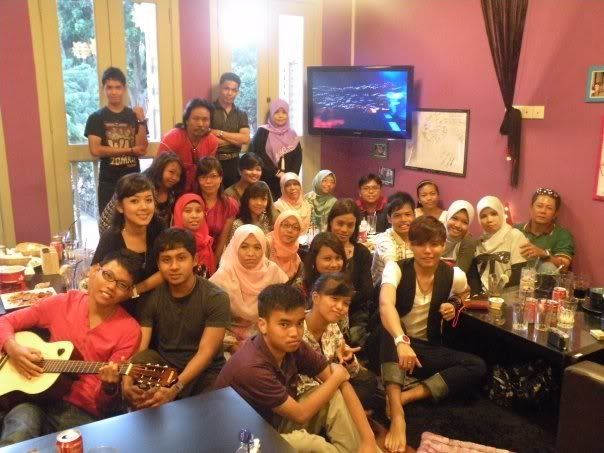 Ok, that's it. I'm very lazy to update about the eve of New Year. Nyehehe. All i did for the eve was to Sentosa with KT. Then, went to meet the siblings & cousins fr lepak session until 4am. Hehe. That's all :)

About my birthday, i shall update it later when i feel like doing a proper one. Hehs. Ok bye :)
Current Mood:

lazy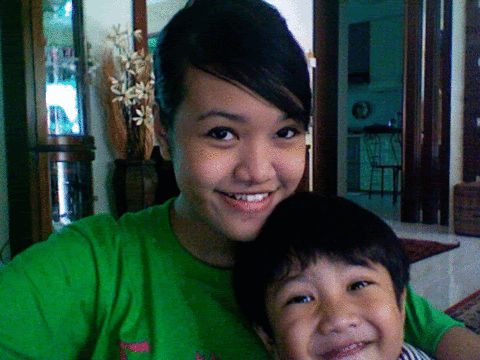 Right now, i'm not really in the mood to blog. However, i think it's better for me to update now before i'm off to KL. I'm sure once i return, there's gonna be so much things to talk about. So yeah. Anyway, here are the collages i made for whatever happened for the past few days :)
10 December 2009, Thursday - Had a birthday surprise over at my place for my 2nd BIL.
11 December 2009, Friday - Went for bowling over @ CDANS, & supper while the BILs stayed at CDANS waiting for our turn, since it was a very long queue.
12 December 2009, Saturday - It was Natasha Aida's birthday. She's a friend from KL. She came with her college mate, Gloria. Went to meet her and the rest at Joo Chiat Complex and Hyrul was there for the event. Sorry i couldn't stay longer with you girls. Btw babe, i'll call you once i'm in KL alright?? :)
So in the evening, went to Labrador Park to meet the siblings for fishing, and stayed there until 1am.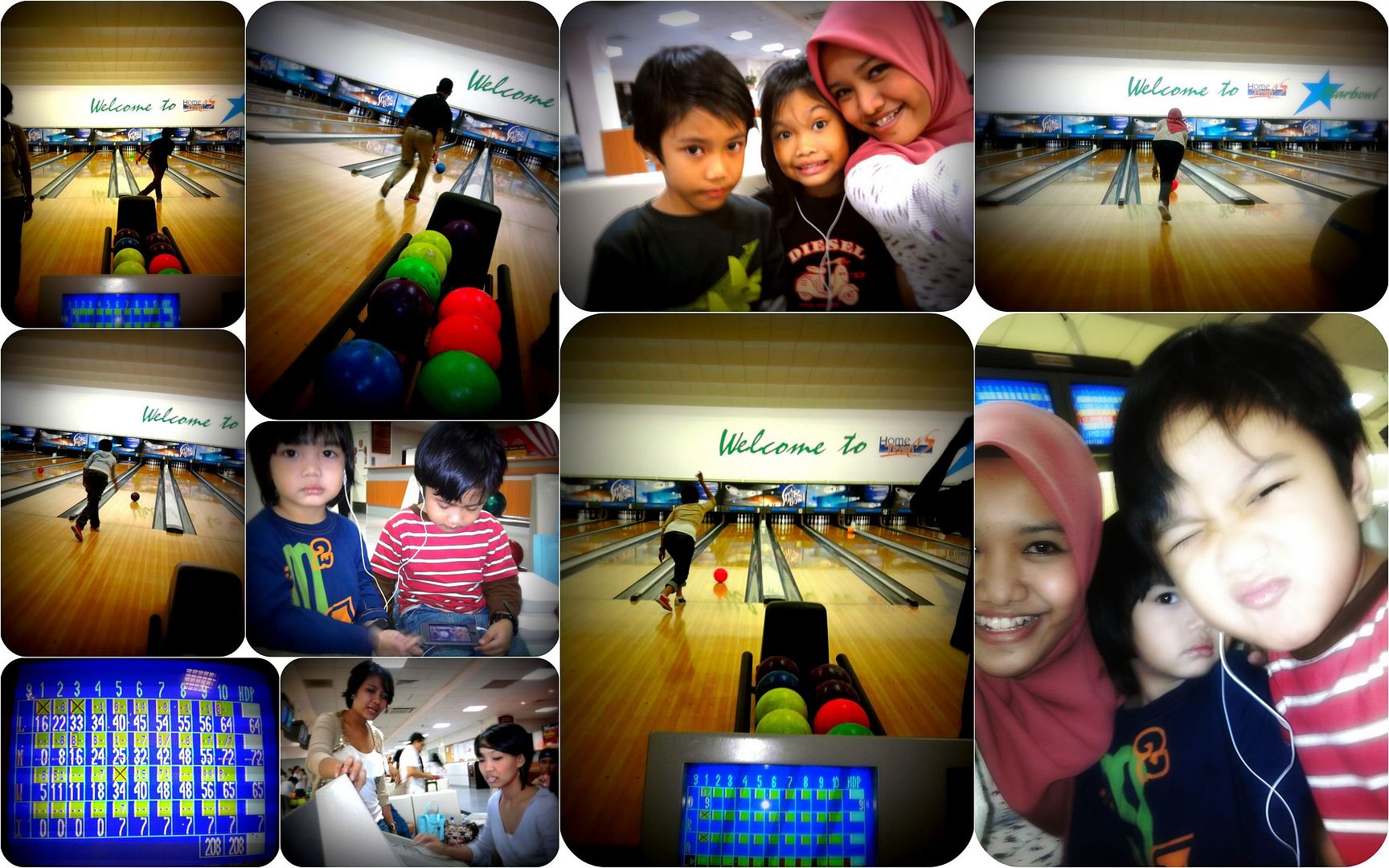 13 December 2009, Sunday - Went for bowling again @ CDANS. The queue wasn't that bad compared to Friday. I couldn't believe that we spent 6 hours bowling, excluding 1 hr break that we took for dinner. During the first half, it was just the siblings. Parents came during the second half, but only dad who joined us for the game. Mum just sitting there watching us until she almost fell asleep. HAHAHA :) Anyway, we all couldn't believe that dad was the best player among us. HAIYO!! Mane boleh itu macam?? Tsk. Nevermind, shall beat him in the next game :)

Ok darlings, that's it. See, i told you i couldn't be bothered to do a proper update. Nyehehe :) The mood blom nk appear ar. Heh. Anyway, i'll be away from 17 December 2009, Thursday until 20 December 2009, Sunday. I'm not even ready for my trip tmr. I haven't even pack up my stuffs. Alaaaa.....lazy ar. Tsk. So miss me darlings. To my Luxgirlszxs, i miss korang so much. To Bestie especially, i miss you truckloads. There are others who i miss, you guys should know who you are :)


xoxo
Current Mood:

calm
I'm not really in the mood to update my blog. But since i already have the pictures, and have edited some of it, so let me just do a very simple update. On last Saturday, went to the airport to send Mama & family for their trip to Turkey. How i wish i could fit into their luggage. They gonna spend 14 freaking days there. TELL ME, SAPE TAKNAK IKOT OI!! Hehe. Mama, please bring home some great stuffs for me okay? Nyehehe :)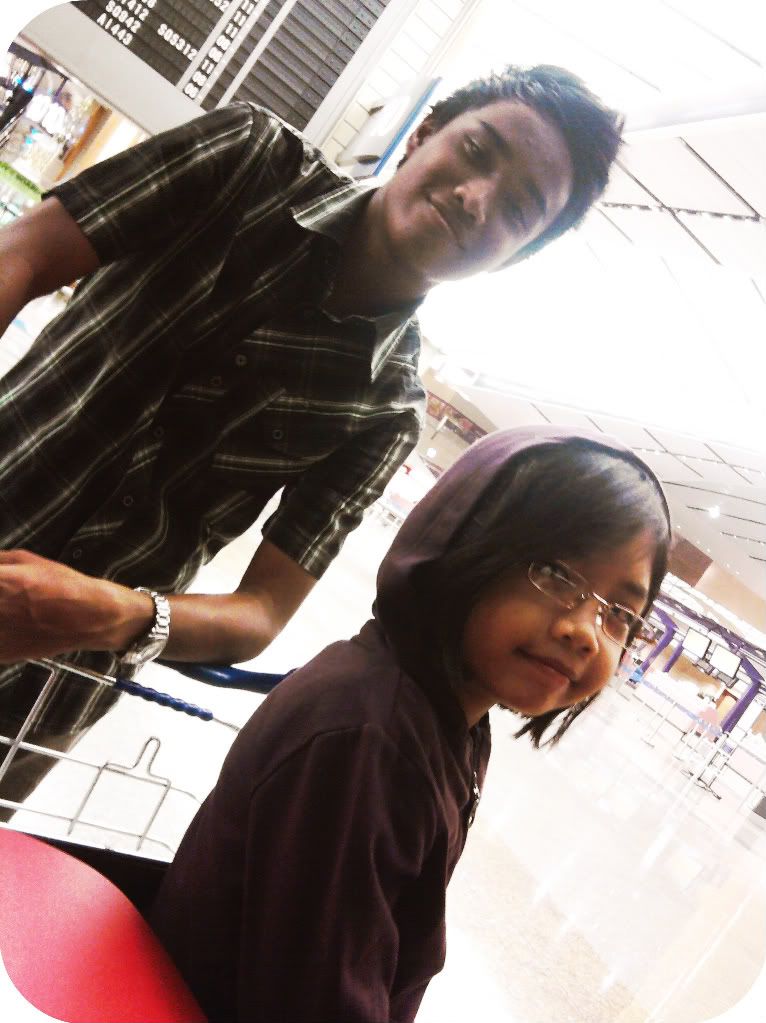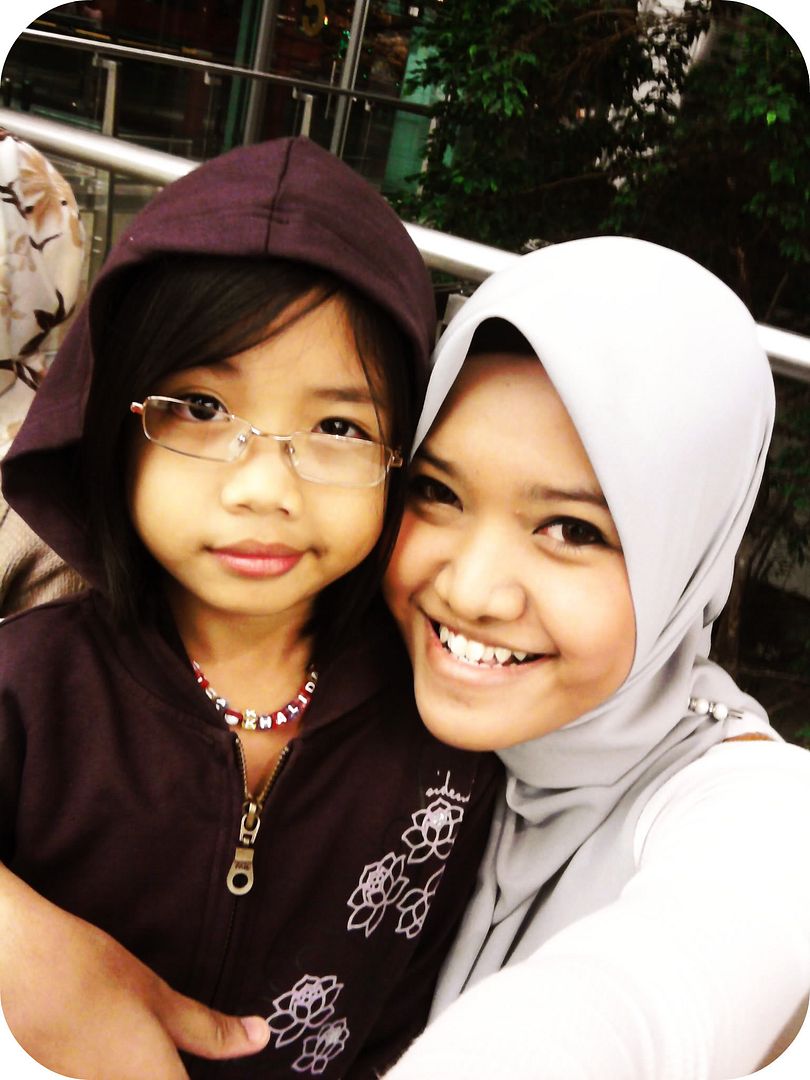 Lil bro & my youngest maternal cousin <3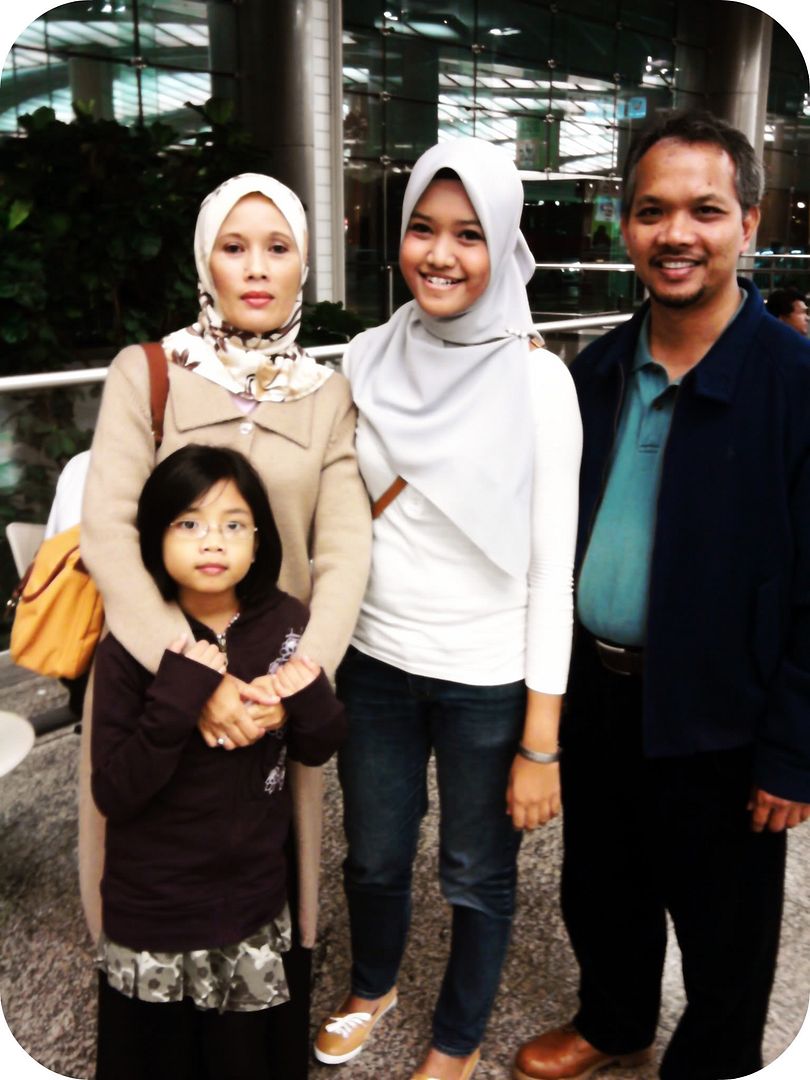 Mama & family :)
The next day, went to meet my girls. Yanti & Mel couldn't join us :( Oh by the way, Amirr was with us too. We spent the whole time at the Vivocity Skypark. And Eera Darlynke, i'll teman you one day to eat
your Mee Goreng Kerang okay?? :)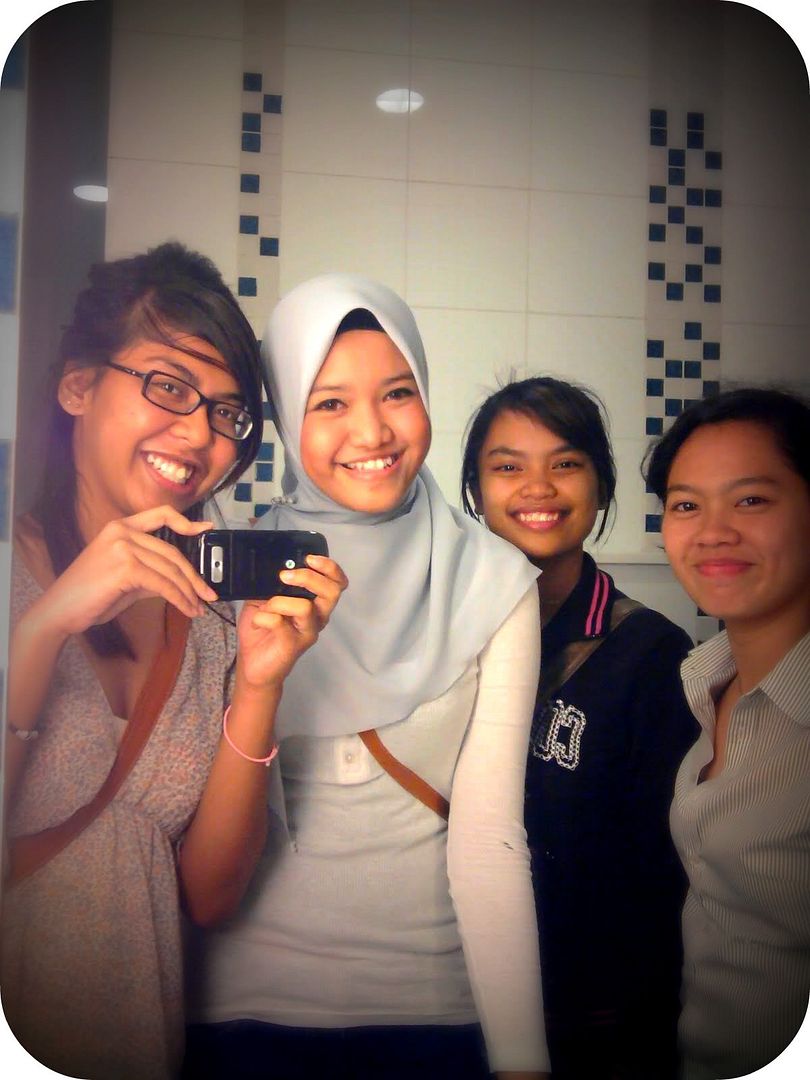 Yesterday, an outing with my GC to the AMK hub. Went to watch Ninja Assassin, and sumpah, the actor's body was so HOT!! The movie was cool, but some parts were kinda bloody. Eewww!! Then we spent our time hanging out at the Macdonald and Elias, he's waiting for someone's call right now. Hehehe :) Bro, dier da call blom?? Nyehehe :) In the evening, the guys had to go off to Kallang for Adee's shoot, and the girls, we went to Causeway point instead, and had a great time talking about our lives. Hehehe. The outing we had yesterday was actually the last one for Hafeez L before he leaves for NS on the 8th Dec. We gonna miss you bro. It's gonna be different without you around, seriously :( Take care alright??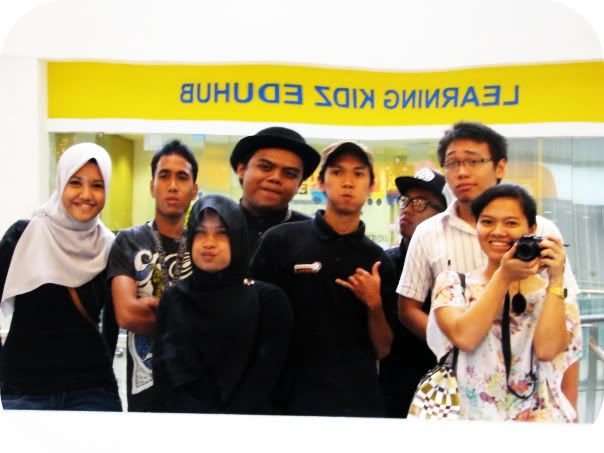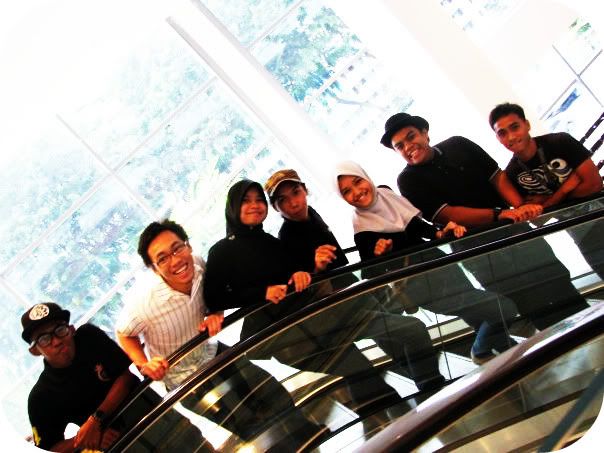 Now, here are some of the pictures taken during Eera's 18th Birthday surprise on the 18th November at her place. Enjoy!! :) Photo credits goes to Mellyboo <3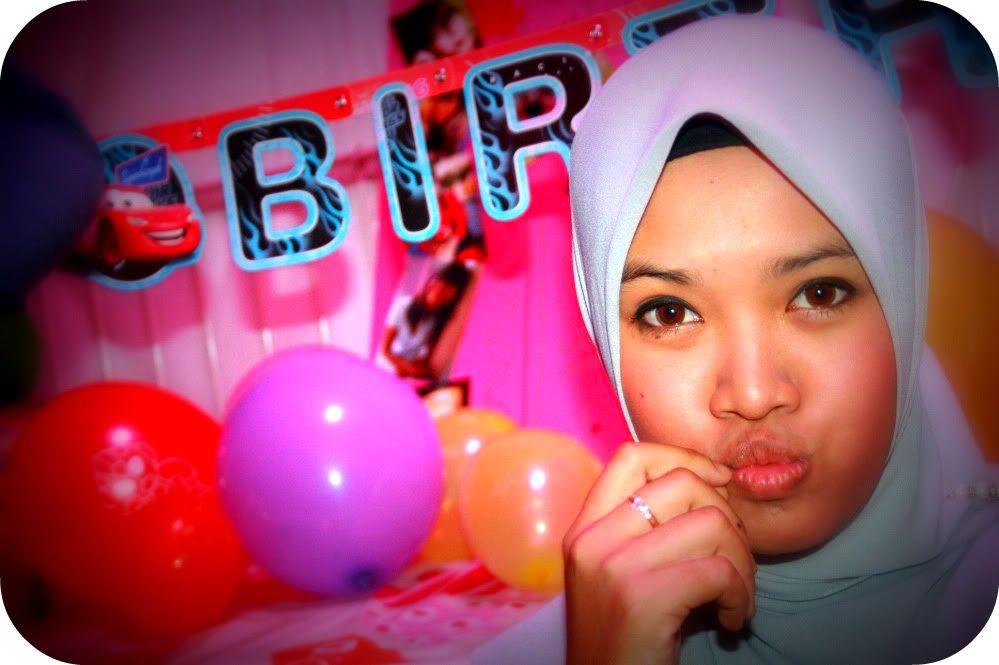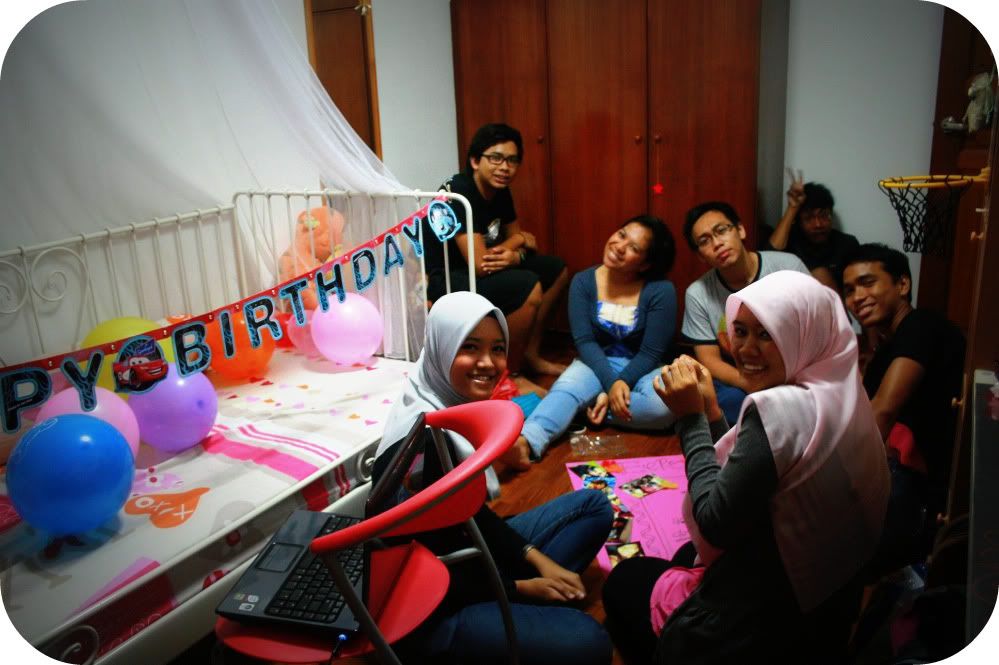 Preparations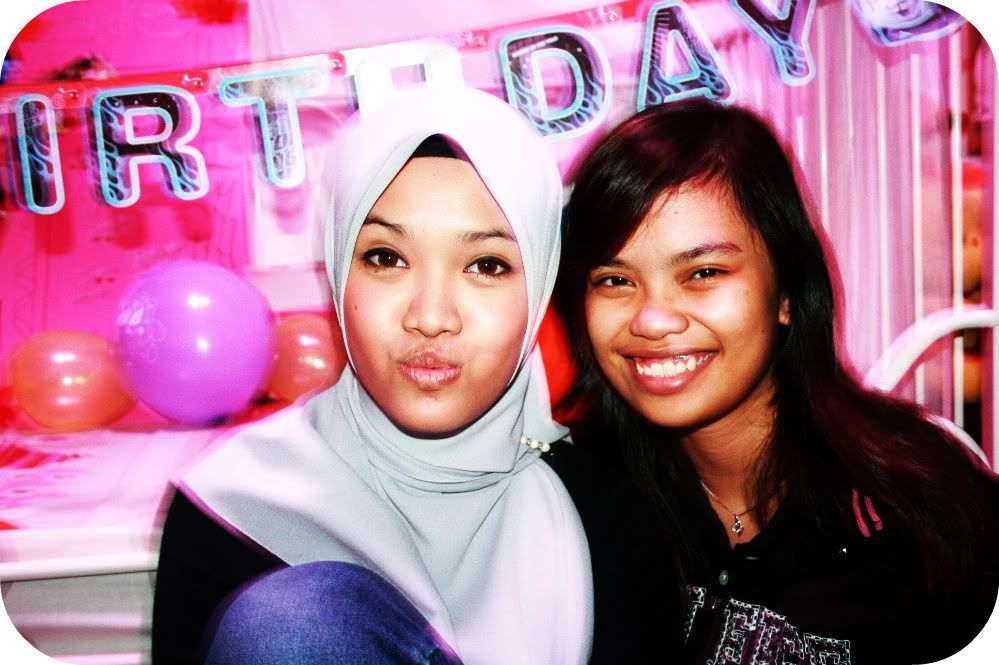 <3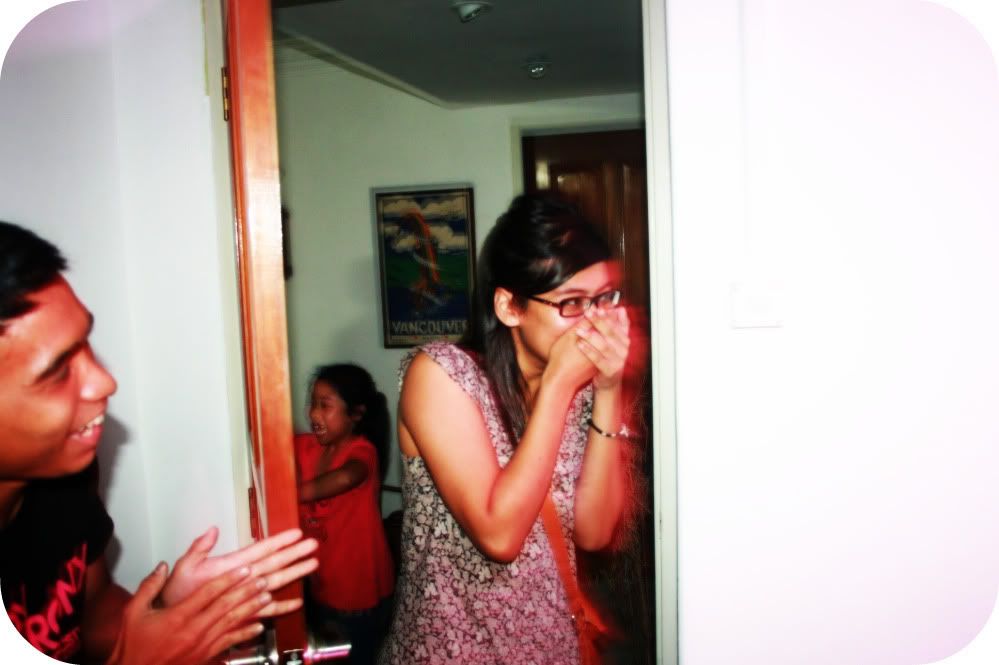 4mins 59s after she reached home, then she went into her room
-_-"
with the Girls <3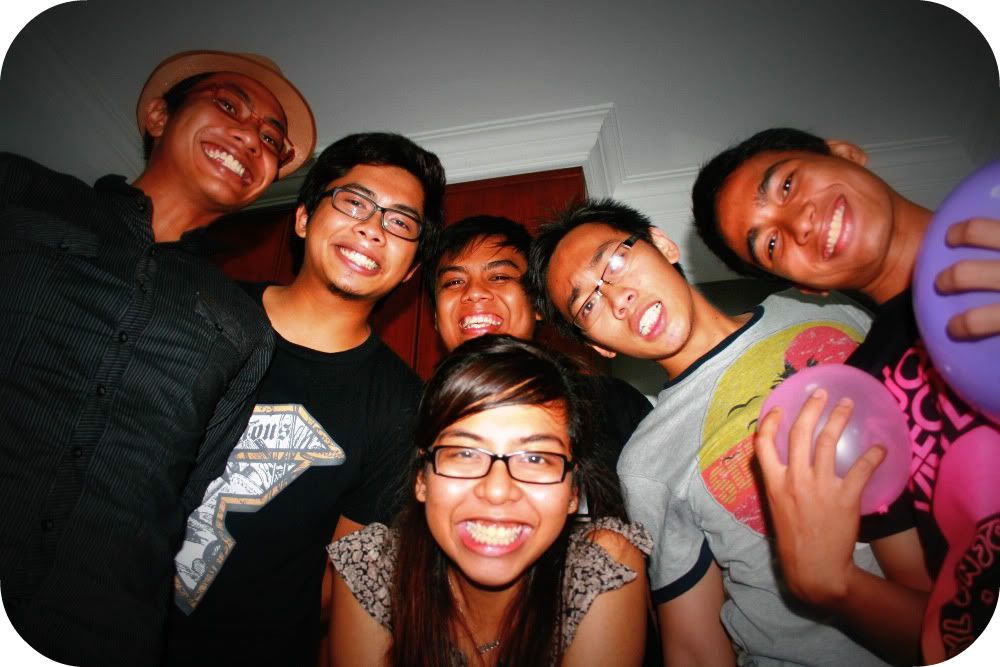 with the Boys <3
The Favouriteszxs <3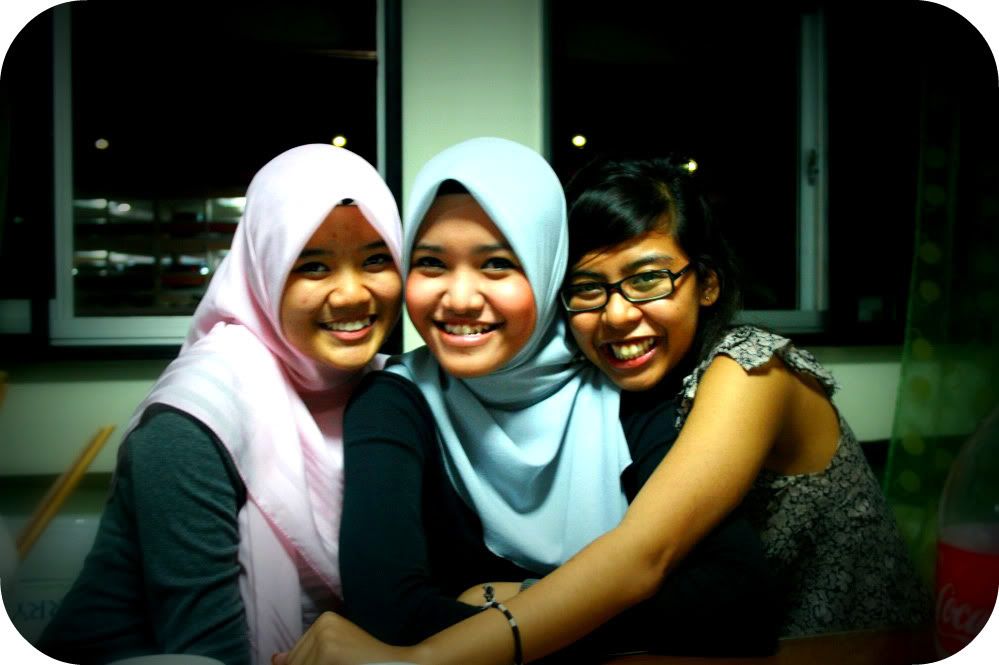 Kak Iana's little sisters. Hahaha <3
Current Mood:

calm
The SICK birthday girl <3
Today was AWESOME. Spent the whole Sunday with the family. First, went to Aaliyah's 1st birthday party. It was great to meet the cousins. Unfortunately, not all were present. Anyway, the party was FUN. There were games for both adults and the kids. However, i found that the adults lagi kecoh than the kids during the games. Hahaha!! Lynno was the game master, tapi dier mcm rilek one corner. Hehehe.

So after the party, my siblings decided to lepak-ed at Kak Nana's crib to watch 'The Uninvited'. So before that, the four of us went to a pasar malam nearby, whereas my brother-in-laws brought the kids home. So we bought food and drinks for the movie, and lepak-ed almost to midnight. So that's how i spent my Sunday.
Spending QT with the family is always THE BEST!! <3
Siblings' LOVE <3
Candid shot is a must :)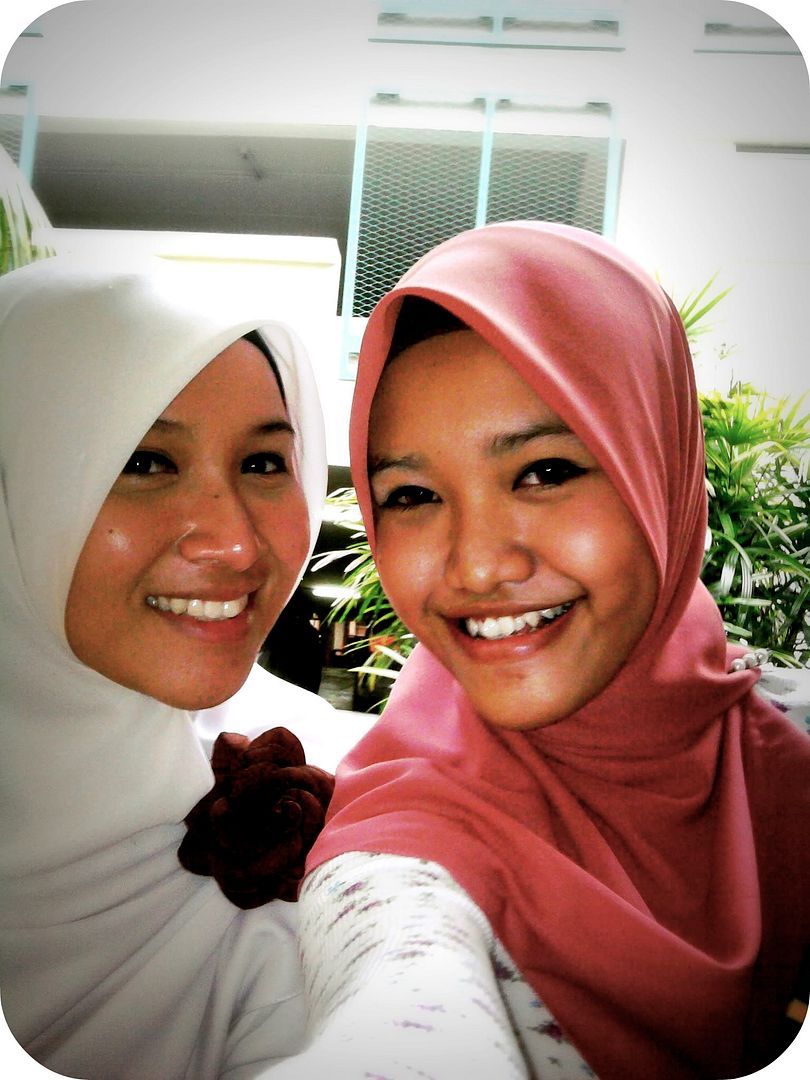 Lynno, my cousin-in-law to be. Nyehehe <3
Supposed to be just the sisters, but Haikal menyebok. Hehs :)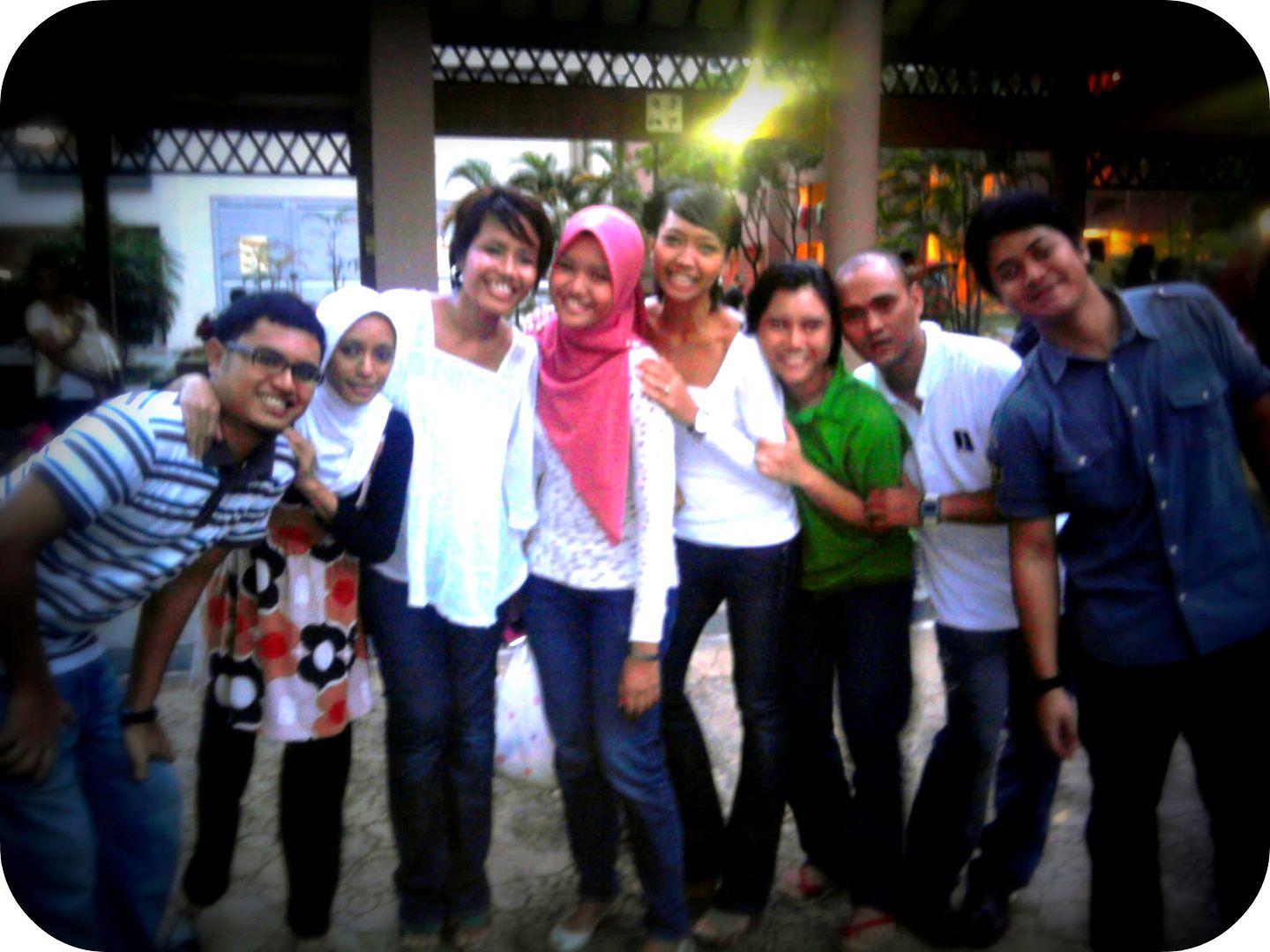 The cousins, but some were not there <3
Will update on Eera's birthday surprise once i get the pictures from Mel's multiply. So, take care lovelies :)
Current Mood:

calm